Laminate flooring is a modern floor covering that has replaced expensive parquet and wooden floors. Initially, he was afraid of moisture, an untimely wiped puddle from spilled water could forever ruin the coating. The solution to this problem was a waterproof laminate of 12 mm class 33, Germany and manufacturers of other European countries offer coatings that can be laid even in pools. This universal finishing material, despite its rather high price, has become popular among consumers, because German quality has always been in price.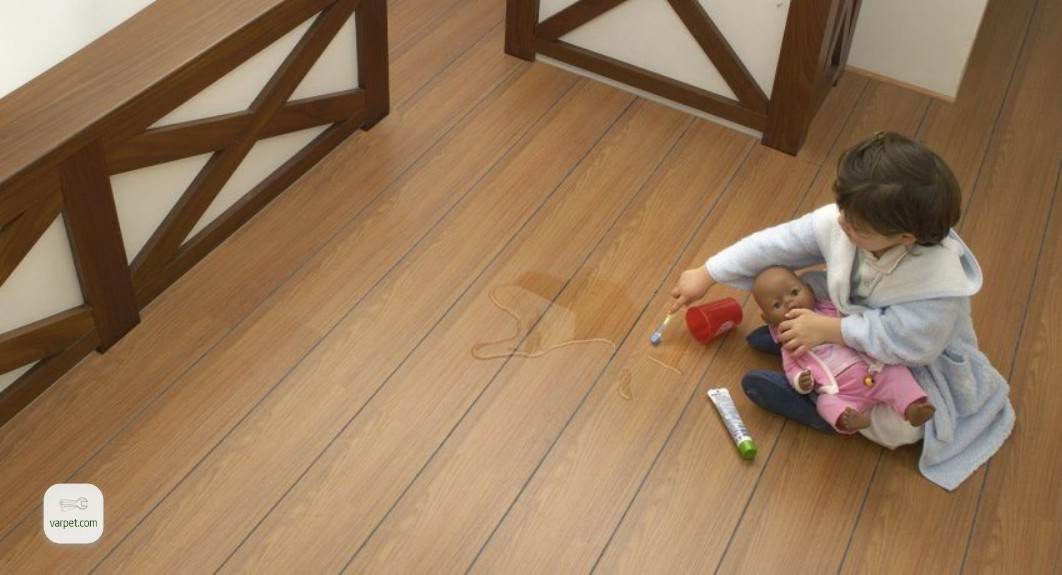 The waterproof laminate is not afraid of high humidity and sudden changes in temperature
Laminate made in German: quality and reliability
With the growing popularity of waterproof laminate, many manufacturers of laminate flooring began to produce it: in Belgium, France, China and Russia. The leading market leader is products made in Germany.
Water-resistant collections with all kinds of prints and a wide selection of textures are offered by German companies such as Egger, Zigart, Krono Original, Westerhof, Aberhof, Hessen Floor, Floorwood, Classen, Ecoflooring, Maxwood, Proteco, Vega, Kronotex and others. Their products have the best customer reviews because the marking "Made in Germany" has already become synonymous with the quality mark.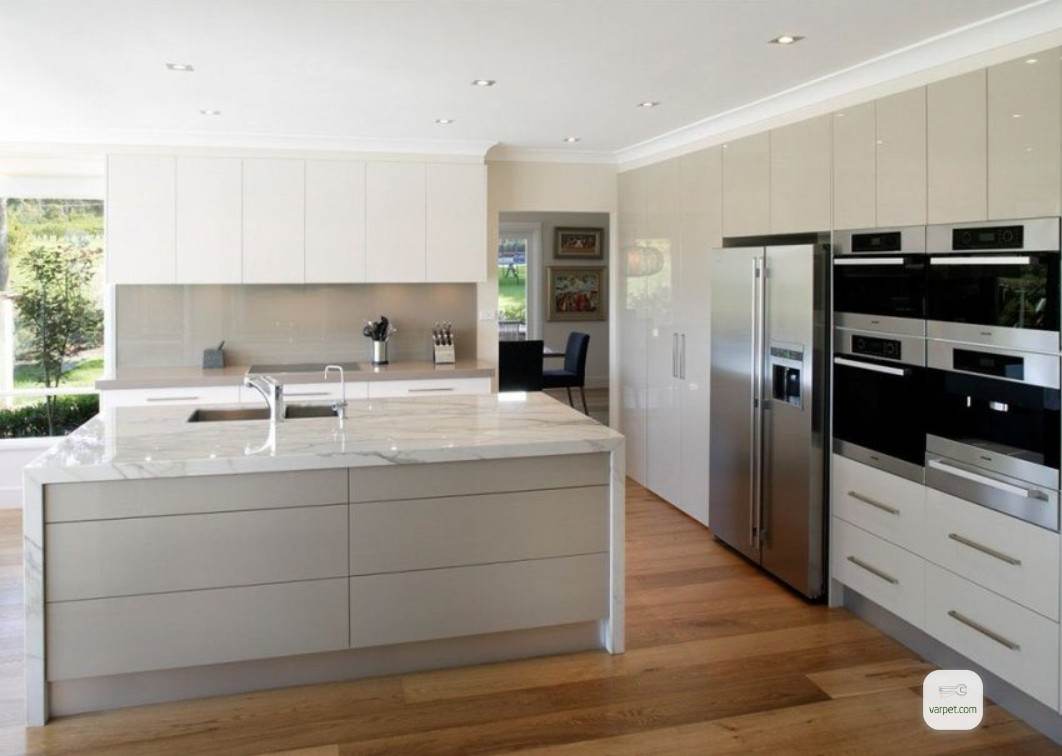 Kitchen floor with 33 class laminate
The difference between moisture-resistant and water-resistant laminate 33 class 12 mm, Germany
In the characteristics of a laminate of 31-34 classes, you can find indicators such as moisture resistance and water resistance. Both of these concepts mean that this flooring is not afraid of contact with water and can be used in rooms with high humidity, such as a bathroom, kitchen, swimming pools, etc. In the production of such a laminate, all layers are impregnated with a water-repellent material and an antiseptic (to prevent the appearance of fungus), and the joints between the lamellas and the connection locks are treated with special wax.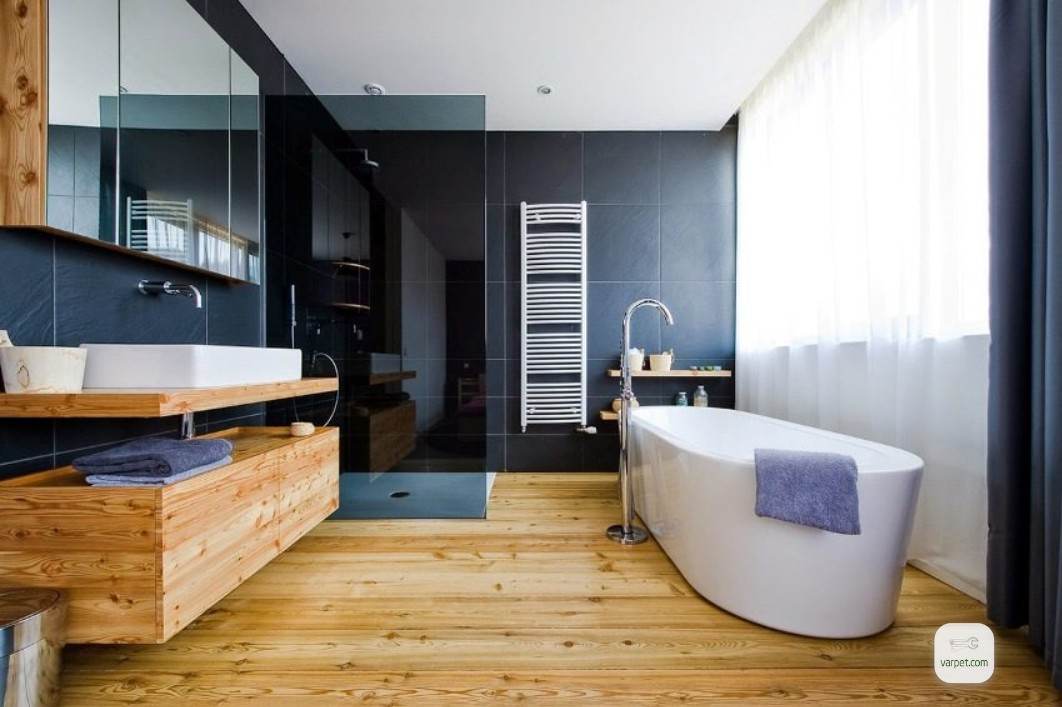 Moisture-resistant coating is ideal for finishing the floor in the bathroom
The difference between these concepts in the material from which the lamella is made:
the basis of moisture-resistant laminate is a high-strength HDF plate. It is made of wood fiber impregnated with resin, and is able to withstand prolonged contact with water and non-critical temperature changes. However, she, as a natural material, is characterized by deformations under severe temperature changes and intense humidity (for example, when flooding by neighbors from above);
for waterproof class 33 laminate (12 mm thick), a polyvinyl chloride (PVC) plate is used as the base. It does not respond to changes in temperature, humidity and other atmospheric and natural phenomena, and can stay in water for several weeks without harm to physical properties. Inside this PVC plate there are heat and sound insulating air chambers.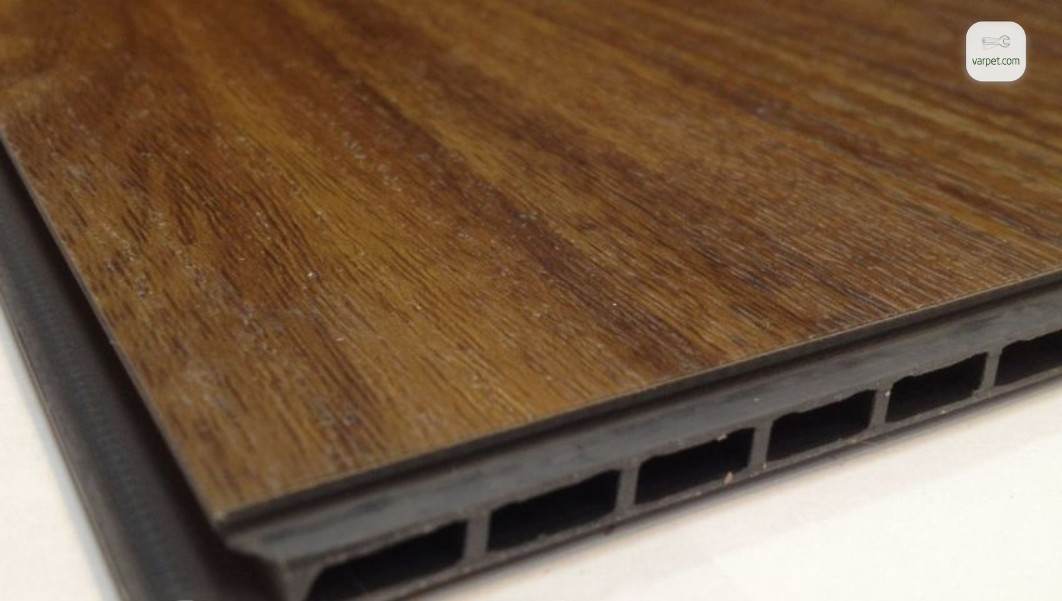 There are air chambers inside the waterproof laminate panel
Both of these options are suitable for finishing floors in residential buildings. A waterproof laminate, according to many experts, is more appropriate in bathrooms, on cold balconies and underfloor heating, as well as in seasonal country houses, pools and saunas. Moisture-resistant coating is recommended to be laid in the kitchen, children's room, living room, corridor.
Advice! For the bathroom and kitchen, it is better to choose a laminate without a bevel. The lamellas will fit more tightly, which will reduce the likelihood of water and dirt getting into the joints.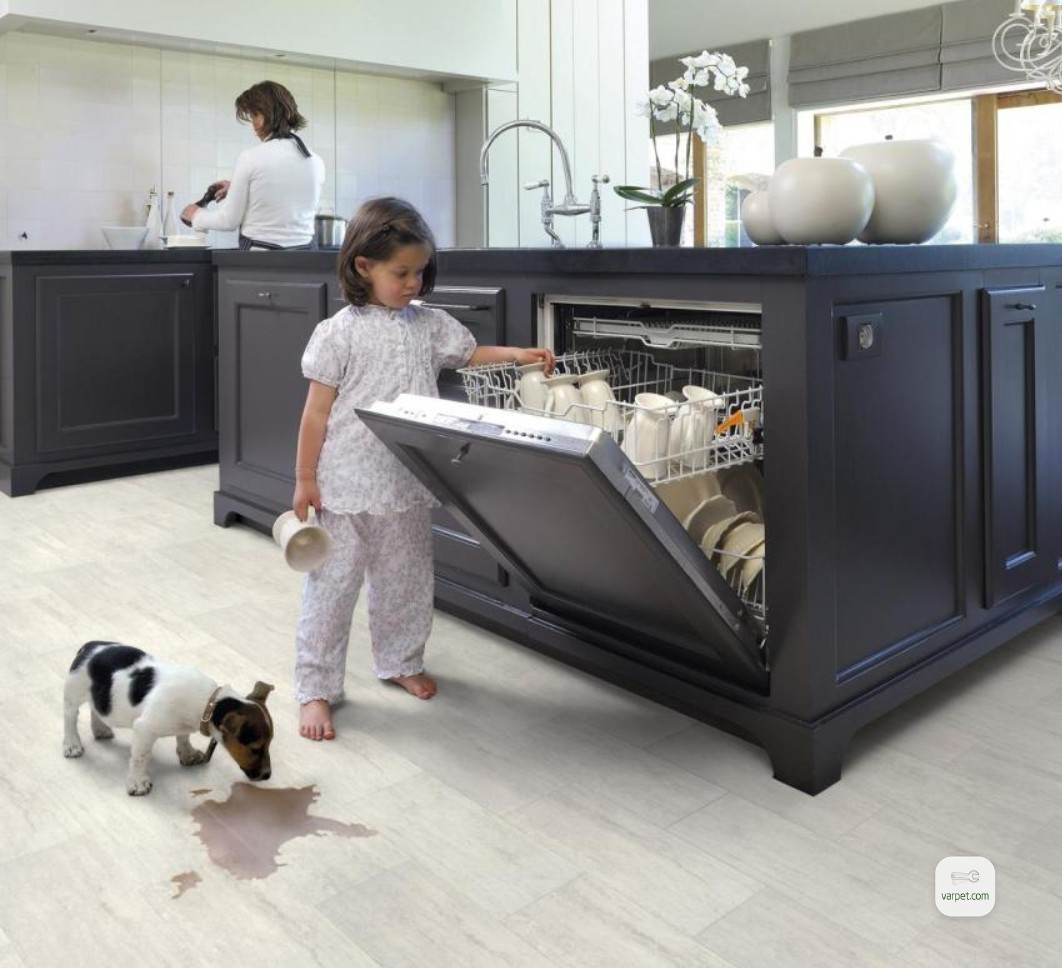 When choosing a coating for the kitchen, it is better to give preference to waterproof laminate
Moisture-resistant laminate 12 mm 33 class, Germany: characteristics and properties
According to standards approved by the European Association of Laminate Floor Manufacturers (EPLF), there are six classes of laminate flooring. The class determines the degree of wear resistance. The higher the grade, the less laminate is susceptible to damage and wear. Today, the most popular is a laminate of 31-34 classes.
Laminate class 33 and 34 has the highest abrasion resistance and is recommended for flooring in public places with intensive use: shops, gyms, restaurants. Nowadays, it is increasingly being bought for apartments and houses. The service life of such a laminate significantly exceeds the performance for residential premises. With proper care, manufacturers give a 25-year warranty.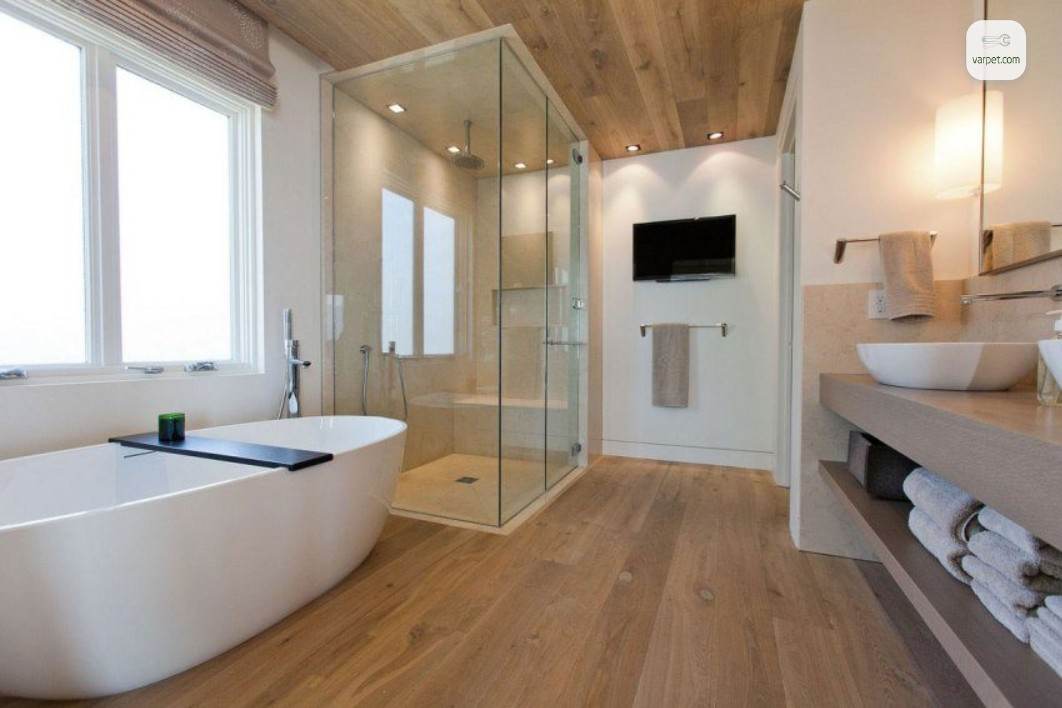 A 12 mm thick laminate was used in the decoration of the bathroom.
It should be said that the durability of a class 33 laminate will depend on the quality and thickness of the panel. When choosing, the intensity and degree of load in the room is taken into account. The maximum thickness, and accordingly the strength, has a lamella of 12 mm. The average service life of a laminated coating of class 33 with a panel thickness of 8 mm in residential premises is 20-25 years, and a thickness of 12 mm is 30 years. On these floors there is no trace of furniture or scratches. In addition, lamellas with such a thickness have strong connection locks.
Important! When finishing the floor with a laminated floor, it is necessary to calculate how much the floor height will increase (based on the thickness of the lamellas and the substrate) and make sure that this will not interfere with opening / closing doors. The height at the junction with the coating of the adjacent room should be the same.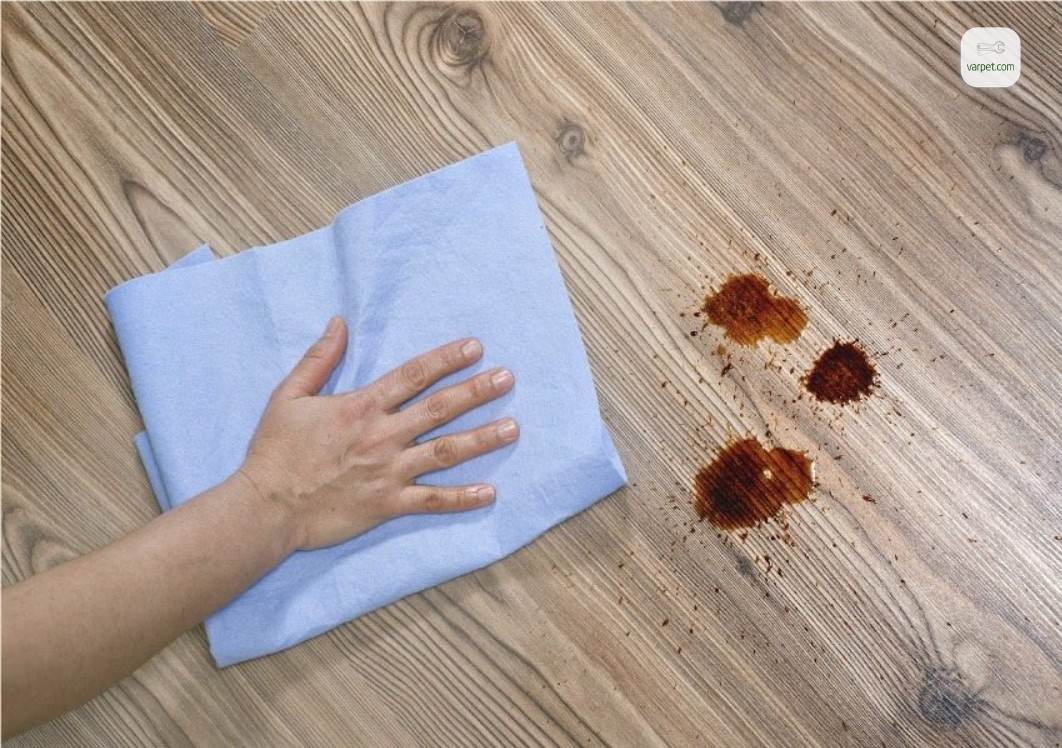 It is very easy to take care of the smooth surface of the laminate without chamfer
The average price of a laminate per 1 sq. m.
Waterproof laminate is quite expensive, but it will serve for many years. Each company has collections in various price categories. This makes coverage affordable for families of all incomes.
Manufacturers from Germany offer waterproof laminate 33 class 8 mm thick at these prices (in ascending order):
Manufacturer
Collection
Average price for 1 m², AMD
Krono Original
Natural Forte
4500-5500
Westerhof
Mario Loretto
Aberhof
Shtorm
Hessen Floor
Albero
Westerhof
Innovation
5500 — 6000
Floorwood
Prestige
Hessen Floor
Bavaria
Hessen Floor
Madeira 8/33
Floorwood
Brilliance
6500-7000
Classen
Futuro Expert, Force
Floorwood
Shine
Aberhof
Legend 33
Classen
Extravagant Dinamic Pol
7500 — 9000
Ecoflooring
Castle, Elegance
Maxwood
Colambus, Titanium
Floorwood
Benelux 33/8 4V
Egger
Aqua, Aqua Tile
Zigart
WaterProof
from 10500
Average prices for waterproof laminate (Germany) 33 grade 12 mm thick (in ascending order):
Manufacturer
Collection
Average price for 1 m², AMD
Unistep
Gloss
5500 — 6500
Proteco
Массив
Fussboden
Concept
Vega
Maxi 33
Floorwood
Arte
7000 — 7500
Proteco
Shato
Imagine
Impressive
Krono Original
Floordreams Natural
Hessen
Floor Arabica, Floor Grand
Westerhof
Maestro Vintage, Aristocrat
8000 — 9000
Unistep
Real
Zigart
Super Star, Hardwood
Classen
Extreme
Proteco
Grace
Kronotex
Solid Plus
Praktik
Ultimate
9500 — 10500
Evig
Elegant, Luxury
Kronotex
Atlantice, Robusto
Zigart
Art Castle
10500 — 11000
Ecoflooring
Country
Praktik
Royal Lack
Ecoflooring
Art Wood, Villa, Brush Wood, Shato
11000 — 12000
Proteco
Advantage
Kronotex
Mammut 33
My Floor
Villa
13500 — 15000
The most expensive is a coating thickness of 12 mm 34 class. Waterproof laminate (Germany) with these characteristics is in the following price range (in ascending order):
Manufacturer
Collection
Average price for 1 m², AMD
Hessen Floor
Torres
from 7500
Floorwood
Maxima 34
Vega
Style, Mega, Dreams
Floorwood
Serious, Sunrise
Ecoflooring
Palace, Cottage, Real Wood, Land
from 11000
As you can see, it is quite possible to get a decent laminated coating at an affordable price. Remember that flooring is a long-term investment. Moisture-resistant laminate will relieve you of worries about spilled liquid on the floor, as well as the need to rebuild it every 5-6 years of service.